What's inside?
Well check it out :)
Games
Games from the community
Supertux (2D platformer)
Tux Strike back (Supertux extension)
Noidz2sa v3 (shoot them all)
Vektar (shoot them all)
Snake2x (snake clone)
Heroes (3D snake clone)
FloboPuyo (PuyoPuyo clone)
Stris (tetris clone)
Drill2x Xtreme (puzzle game)
Tilematch (Bejeweld clone)
Sokoban (puzzle game)
Ghostpix (puzzle game)
Frozen Bubble (Puzzle Bobble clone)
Sqdef (tower defense)
Freecell (card game)
Solitaire2x (card game)
Chess2x (chess game)
Squaresliding (puzzle game)
Blix2x (puzzle game)
Thruster (abstract shooter)
Spout (abstract shooter)
Emulators
Console emulators
AtariST
Amiga
Colecovision
Gameboy
Gameboy Advance
Arcade (Mame, cps2emu)
Megadrive / MegaCD
NeoGeo
Playstation
Nes
SuperNES
Interpreters
Beat2x (+ packs)
OpenBOR (+ packs)
Scummvm (+ free games: Beneath a Steel Sky & Flight of the Amazon Queen)
Tools
New UI / game launchers
gipiix (New GUI, /!\ NOT PRE CONFIGURED)
gmenu2x (New GUI, /!\ NOT PRE CONFIGURED)
gp2xmb (New GUI, PlayStation UI clone)
A couple of multimedia tools
GMU (audio player)
OldPay (audio player)
PDFview (pdf reader)
PocketFlash (flash player)
Mp2x (video player)
Other tools
BatterieTest (battery level tester)
Gp2x-write (text editor)
Calculette (calculator)
Termula2x (terminal emulator)
Launchers
You can use one of these new launchers, or just continue using the one from your console.
gipiix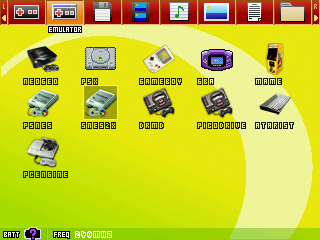 autorun file
gmenu2x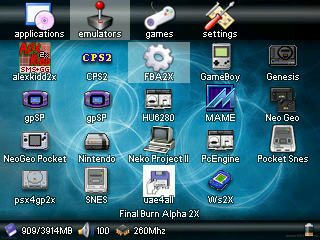 autorun file
GP2XMB
autorun file
License
I'm not the author of these softwares (well, I am the author of Gipiix). All of these are (or were) freely available on the Internet. Some are open source, others are not. They are using many different licenses. If they had a README or a LICENSE file, this starter pack has included it.